Asphalt and concrete are both excellent materials for asphalt driveway or concrete driveway because they are strong, durable and attractive.
Which material is right for your driveway? Each has its pros and cons, and this driveway guide explores them including the cost of asphalt and concrete along with other important issues that will assist you in deciding which material to use.
---
Introduction to Asphalt and Concrete Driveways
Before we begin to differentiate the materials, let's start with their similarities for driveway construction. Knowing what is involved will assist you in discussing your driveway project with contractors when you get estimates for the work.
Construction is much the same right up to the point of adding the concrete or asphalt:
The driveway bed is excavated to a depth of 8 to 12 inches depending on the type of soil you have
One or more types of aggregate (sand, gravel, washed stone, crushed stone) are used to form a base of up to 8 inches
The aggregate is graded and compacted
Two layers of asphalt or one layer of concrete is installed
Concrete is sealed in four to six weeks; asphalt is sealed in 6 to 12 months
Asphalt should be resealed every 2 to 4 years, concrete every 3 to 10 years depending on the type of sealer used.

---
Pros and Cons of Asphalt and Concrete
The results are summarized in the table below that compares asphalt and concrete driveways for easy reference.
Asphalt driveway pros
Good durability
Lower cost of asphalt compared with concrete driveways
Suitable for any climate including areas that freeze
Attractive when maintained
Installed quickly and used immediately
Maintenance and minor repairs can be DIY
Asphalt driveway cons
Can soften in very hot weather (and get very hot to walk on) which can result in it being marred by turning vehicle tires or by heavy and pointed objects
Will begin deteriorating in 3 to 10 years if poorly maintained
Will settle and crack if the base is not properly installed
Requires consistent maintenance after a few years that includes crack filling and sealing
Now, let's examine the pros and cons of concrete.
Concrete driveway pros
Excellent durability
Handles heat and weight very well
Upscale appearance
Can be acid-stained, stamped and/or tinted for enhanced design
Fairly low maintenance
Concrete driveway cons
High installation and driveway repair costs
Must be kept sealed to avoid spalling
Susceptible to deterioration in freeze/thaw cycles
Costly to remove at end of lifecycle
This table compares asphalt and concrete in their most significant characteristics.
Asphalt Driveway / Concrete Driveway Costs
Driveway Items
Asphalt Driveway
Concrete Driveway
Install cost:
Moderate
High
Durability:
Moderate/high
High
Maintenance:
Moderate
Low
Maintenance cost:
Moderate/high
Low/moderate
Visual enhancement:
None
Stamp, stain, tint
Can be heated:
Yes
Yes
Seal frequency:
2 to 4 years
3 to 10 years
Resistance to stains:
Moderate/high
Moderate
Resistance to freeze/thaw:
High
Moderate
Removal cost:
Moderate
High
Best climate:
Cold to warm
Warm to hot

---
Comparing Asphalt and Concrete Driveway Cost
The total price for a driveway always includes more than just the cost of installing the asphalt or concrete. That's one reason why asphalt driveway prices and concrete driveway prices given online vary so widely.
Here, you'll get thorough estimates that itemize all of the details by price, so you can determine what your costs are likely to be based on what will be done. These costs apply to all popular driveway designs including:
Two-car width from the road to a two-car garage (usually short driveways)
Single-car width from the road widening to a two-car garage or to a parking pad in front of the garage (medium and long driveways)
Single-car width to a one-car garage (short and long driveways)
The driveway extended alongside the garage for extra parking
The addition of a turn-around or parking area off one side
Summary of concrete and asphalt driveway costs: The notation "/sf" means "per square foot."
To estimate your driveway costs, simply add up those from the list below that apply to your project. See the notes below for additional clarification.
Permit:
With no culvert installed at road: $50 to $150
With culvert and gravel installed at road: $500 to $1,000
Excavation:
Open land: $0.60 to $0.90/sf
Wooded land: $1.50 to $4.00/sf depending on how heavily wooded it is and how large the trees/stumps are
Base layer: (one of the following will apply, based on soil conditions)
No aggregate or stone installed: $0 (See note on gravel driveways)
2 to 4 inches of aggregate or stone installed: $0.45 to $0.95/sf (about 10% of driveways)
6 inches of aggregate or stone installed: $1.15 to $1.30/sf (about 60% of driveways)
8 inches of aggregate or stone installed: $1.40 to $1.60/sf (about 30%)
Driveway material: (one of the following will apply)
This is where the major difference lies between asphalt and concrete: The cost of the actual driveway material.
Asphalt – base of 2 inches and top layer of 1 to 2 inches installed: $1.90 to $2.75/sf
4 inches of concrete installed and finished: $4.75 to $6.85/sf
Upgrade to 6 inches of concrete to support heavy equipment: $6.50 to $8.50/sf
Notes:
If an existing asphalt driveway or concrete driveway is removed, installing the new driveway should require little or no additional aggregate
If a gravel driveway in good condition is being upgraded to asphalt or concrete, it might require little or no additional aggregate
Removing an existing asphalt driveway costs $2-$3.50/sf
Removing an existing concrete driveway costs $5-$8/sf
Sandy and gravelly soils require less aggregate than clay soils
Costs in remote areas will be 10% to 25% higher due to the time and fuel required to reach the jobsite
Tinting concrete will add up to $1.00/sf
Stamping or staining concrete will add up to $4.00/sf
Putting all the costs together:
Average cost of asphalt driveway: $2.80 to $5.15/sf
Average cost of concrete driveway (4" of concrete): $5.75 to $10.00/sf
Average cost of concrete driveway (6" of concrete): $7.50 to $11.75/sf
*These prices are for excavating open land and are based on the factors discussed above.

---
Asphalt and Concrete Driveway Maintenance
While initially more affordable than concrete, asphalt costs more to maintain in the years following installation.
Asphalt driveway maintenance and cost: Asphalt should be sealed within 6-12 months for best durability. For example, if you live in a cold climate and your driveway is installed in the spring, sealing it at the end of summer makes sense. If installed during summer, seal it as soon as warm weather permits the following spring or summer. Use a stiff broom and a leaf blower to clear leaves, dirt and debris from the asphalt before sealing it.
As an asphalt driveway ages, small cracks will appear. Initially, these can be filled with just rubber crack filler. Hot material is best, and the area around the crack should be cleared of dirt to allow adhesion of the rubber. If the crack becomes larger than 1/8" wide, erosion will occur beneath it. The repair process should begin with filling the crack with sand to about 1/4″ below the asphalt surface. The crack can then be filled with rubber filler.
Professional asphalt driveway sealing cost: $0.45 to $0.70/sf
As the driveway develops cracks over time, expect the cost of sealing it to increase by 10% to 50% based on how much repair it needs.
If a section of the driveway settles and must be replaced in the first few years, call the contractor and ask them to repair it at no charge. Later in the driveway's lifecycle, you'll be responsible for the asphalt driveway repair cost. Patching and replacing small sections can be costly.
Asphalt driveway repair cost: $12 to $20/sf with a minimum charge of $100 to $200
Concrete driveway maintenance and cost: Concrete cures in 4-6 weeks and should be sealed shortly afterwards. The seal used on it will determine the cost. The better the seal, the longer it will protect the driveway.
Professional concrete driveway sealing cost: $1.50 to $4.00/sf
Cracks in concrete that are more than just superficial should be filled immediately to prevent damage from water infiltration and, in cold climates, freeze and thaw cycles that quickly deteriorate concrete. As with asphalt, filling cracks when sealing the driveway will raise the cost significantly.
Cutting out, removing and replacing settled and badly damaged concrete sections is quite costly:
Concrete repair & replacement: $14 to $25/sf
The Concrete sections that have settled/sunk but that are intact can be raised effectively with supporting material added beneath. Concrete raising starts at about $250 for small areas.
---
Looking for Driveway Installation or Driveway Repair Pro?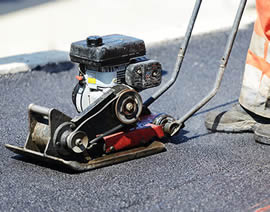 When you're ready to get estimates for the cost of asphalt and concrete driveways, we can put you in touch with the leading installers in your area which are approved by Asphalt Pavement.
The service we offer is absolutely free, and there is no obligation to accept any of the quotes.
Take a minute to provide basic information about the project, and you'll receive three free estimates from qualified, screened driveway contractors that are ready to compete for the job.