Welcome to the What is Asphalt Buying Guide, your source for driveway and roofing ideas and information that will help you select the right material to complete a driveway / roof on your property.
Our guides are designed for both DIY homeowners and for those who plan to hire a builder for the work.
---
What is Asphalt?
Asphalt is one of the most commonly used construction materials due to its versatility and many positive characteristics. In its various forms, asphalt has been used throughout recorded history for diverse purposes such as paving roads, caulking ships, weatherproofing building and even preserving mummies.
But, what is asphalt? Here's an overview of the makeup of this material that is also called blacktop, pavement, asphalt cement and bitumen.
---
Different Types of Asphalt
There is no single asphalt definition or formula for asphalt, but every mix has common elements:
Aggregate of one or more types: The most common aggregates used in asphalt paving are sand, gravel, crushed rock and slag.
Binder: Bitumen, tar or petroleum byproducts
The asphalt paving mixture is heated to liquefy the binder so that it coats all of the aggregate. As it cools, the binder hardens and a tough, durable material is created.
A type of asphalt known as "hot mix" (HMA/hot mix asphalt) is used in the paving industry. It is an aggregate asphalt produced in a plant and heated to remove moisture and to make it workable. The material is trucked hot to the project, deposited onto the road surface and then worked with heavy rolling machines to flatten it into roadway.
Cold Mix Asphalt (CMA)
Cold mix asphalt (CMA) is blended in similar fashion but not heated before installation. While cheaper to use, it doesn't bind as well, so is used as patch or in light-duty applications rather than as the primary road surface.
Recycled Asphalt
Recycled asphalt, or recycled asphalt pavement (RAP), is old pavement that has been ground to produce aggregate-sized pieces. The material is heated to reactivate the binder, applied to the road surface and compacted, just as hot mix asphalt is.
Bitumen Asphalt
Bitumen is a thick, viscous blend of hydrocarbons that sometimes develop naturally but can also be a byproduct of petroleum distillation. No aggregates are added, and the liquid is ideal for roofing, sealing roads and weatherproofing other materials.
These are just the most commonly used types of asphalt. There are many other blends such as stone matrix asphalt (SMA) and many dense-grade mixes. Each is used for industry-specific purposes.
---
Common Uses for Asphalt
Among the thousands of applications for asphalt, here are the uses most likely to impact your daily life.
Asphalt driveways: Asphalt is an ideal material for residential driveways where it provides long-lasting performance. Most driveways start with a base of aggregate up to 8 inches thick topped by two layers of asphalt. The first layer is typically 2 inches thick; the top layer is usually 1 to 2 inches thick. Some driveways are "full-depth" asphalt, meaning up to 8 inches of asphalt paving is installed over an aggregate base of 2 to 6 inches.
The average cost of asphalt driveway can be calculated in two different ways with essentially the same outcome. First, the contractor might use an asphalt calculator to determine the amount of material needed based on the depth of the asphalt and the number of square feet to be paved. Optionally, the asphalt driveway price can be calculated by the ton based on the amount of material to be installed.
There are many blacktop driveway benefits. Asphalt paving:
Costs less than concrete to install and remove
Can be repaired at a lower cost than concrete
Sealer is affordable
Can be resurfaced
Handles freeze/thaw cycles well when properly sealed
Offers durability of 20 to 30 years with consistent maintenance

Asphalt roofing materials
The weather-resistant nature of asphalt makes it a fantastic choice for roofing. It is used in several ways as a roofing material.
Liquid: Sand and bitumen mixes in liquid form are applied with a sprayer or are poured and brushed onto roof surfaces. When the material cures, an impermeable seal is formed that is resistant to all types of weather including heavy rain and intense sunlight and heat.
Rolled roofing: Material such as felt or fiberglass mesh is saturated with liquefied asphalt and coated with stone granules or a similar material. As the rolled roofing is applied, the asphalt is heated with a torch to make it tacky. This ensures excellent adherence to the roof and a good seal. Rolled asphalt roofing is used on flat roofs and some sloped roofs.
Shingles: Asphalt shingles remain the most popular residential roofing material in the US. Felt or fiberglass mesh forms the base. It is saturated with asphalt and coated with granules designed to increase impact resistance and reflect sunlight. When installed and heated by the sun, the asphalt shingles bond together for added strength. Asphalt roofing shingles are available in a diverse range of shapes, sizes, colors and weights. They are sold in bundles of shingles. Typically, three or four bundles make one square – with a square being the amount of material required to cover 100 square feet of roof. Asphalt shingles are used sloped roofs.
Asphalt roofing costs
Are calculated by the square footage to be covered.
The reasons for asphalt being a top choice for roofing include its:
Low cost compared with steel, tile and slate
Excellent durability
Flexibility
Ease of installation
Resistance to wind, rain, impact and heat
Shingle and roll color and style options
Resistance to algae and mold when chemically treated
Asphalt Paving
Gravel, asphalt and concrete are the most common paving materials. Currently Asphalt is the top choice because of its many advantages over the other two. Asphalt is used in all paving applications including highways, all other street types, parking lots, walking and biking paths, athletic surfaces, airport runways and tarmacs and automobile racing surfaces.
As with driveways, asphalt paving material can be calculated either by the depth of the material multiplied by the square footage covered or by the tonnage required for the job.
The benefits of asphalt pavement include its:
Lower cost than concrete and pavers
Greater durability than gravel
Easy maintenance
Resistance to all types of weather
Immediate use after installation
Lower cost for removal than concrete
Recyclability and sustainability

---
What is Asphalt FAQ
Here are answers to the most frequently asked questions regarding asphalt in the applications covered above.
How often should an asphalt driveway be sealed?
In sunny or very rainy climates, it should be sealed every one or two years. In other climates, three or four years is sufficient. When the rich black of the sealer begins to fade, it has deteriorated, and it is time to recoat it.
Is a full-depth asphalt driveway necessary?
A full-depth driveway is built with six to eight inches of asphalt rather than the standard three to four inches. Full-depth asphalt is a good choice where very heavy equipment will be driven on it, but not necessary for most residential applications.
When chunks of asphalt are missing from a parking lot, is HMA the best choice for repairing it?
Hot mix asphalt (HMA) is the ideal choice for new pavement, but it is not cost-effective for patching because it needs to be prepared in an asphalt plant and delivered hot. For patching, cold mix asphalt (aka cold patch), which can be bought by the bag, is the standard choice. Once the parking lot starts breaking up, it is usually time to resurface it entirely with HMA or to remove and replace it altogether.
How much wind can asphalt shingles withstand?
It depends on their construction. Most three-tab shingles are rated for about 110mph. Dimensional/architectural shingles are rated variously from about 135mph to about 160mph. Note that proper installation of the shingles is just as important as their quality when it comes to wind resistance. Talk with multiple roofing contractors to find one with a commitment to installing your roof the right way.
---
Looking for a Asphalt Driveway Installer or Roofer?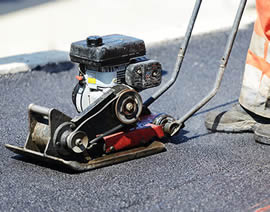 If you have a driveway or parking lot that needs to be paved or a roof to be replaced or installed, finding a qualified contractor with good experience is essential.
We can put you in touch with pre-screened, paving expert and roofers in your area. Take a minute to fill out this quick and easy form, and you'll receive estimates from three top local professionals. They know you're getting several bids for the work, so the estimates are always very competitive. The service is free, and there is no obligation. Also if looking for professional Deck Builders, Check out Deck Cost Guide.