There are several different types, styles and kinds of driveway materials for your property. With so many choices to select it can be hard to know where to start. In this section of the What is Asphalt website you will find guides & comparisons on all of the most common types and styles of driveway. To make things really easy for you, we've included the considerations, pros, cons, costs, maintenance and FAQ for each type of driveway material, so your able to know how much does a driveway cost?
The following list is updated on a regular basis so be sure to bookmark this page and come back regularly for more driveway options.
---
Driveway Guides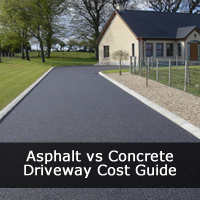 Asphalt and concrete are both excellent materials for asphalt driveway or concrete driveway because they are strong, durable and attractive. Which material is right for your driveway? Each has its ...
Open Guide